FitIncluded Reflex Fitness Tracker, The Next Generation of Fitness Tracking
FitIncluded Reflex Fitness Tracker, The Next Generation of Fitness Tracking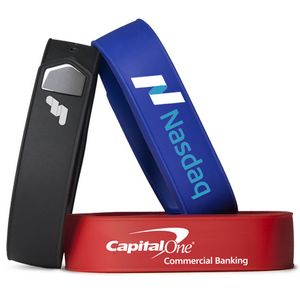 Creating a culture of wellness in your company is easier than ever with the FitIncluded Reflex Fitness Tracker. It offers HR professionals a unique way to track activity for rewards and incentives. The FitIncluded Reflex Fitness Tracker is the ultimate wellness/activity tracker. It not only tracks steps, estimating calories and distance each day, but it also allows users to log sleep and sleep patterns, set goals based on BMI, schedule reminders, track stats, and challenge friends and family to a little healthy competition. Users can even share progress on Facebook and Twitter. The battery life is long compared to other brands. The FitIncluded Reflex Fitness Tracker can go three to four weeks between charging, not just a few days!
For all of these reasons and many more, the FitIncluded Reflex Fitness Tracker rates higher than other leading fitness trackers on both hardware durability and app functionality. What really sets this fitness tracker apart for your company's use is the custom branded app and administrative backend. The Reflex is the perfect device for a corporate wellness program.
Just imagine everyone in your corporate offices wearing the same custom imprinted fitness tracker and seeing your logo every time they check their steps. The FitIncluded Reflex Fitness Tracker will help your company create a healthy corporate culture. It will also help to improve employee health and to lower healthcare costs. Using it as part of an incentive-based wellness program will only add to the fun!
In addition to having your company logo imprinted on the wristband itself, the app can be custom branded as well. The customized app allows your company to brand your logo in seven different places inside the app when using the groups feature. Your company's wellness administrator will have the ability to manage all logo customizations. The FitIncluded Reflex Fitness Tracker is the perfect corporate wellness activity tracker because it features the ultimate app designed with branding in mind.
You will also be able to maximize the benefits of the FitIncluded Reflex Fitness Tracker by creating a group and encouraging your team members to join it. You can limit access with password protection or leave your group open to anyone, whichever fits your needs best. Your wellness administrator will then be able to view all group members and download daily step totals for each of them. It's the perfect solution for HR directors who want to run weekly or monthly contests and allows them to track progress and manage the program's success as well. They just set goals and incentives for team members then easily track members' progress with the customized app.
Made of soft, comfortable silicone, the easy-to-use wearable wristband is designed to make fitness fun and fashionable. Your team members will love its simplicity, and you can choose from black, blue or red. The tracker includes a new dock for easy charging and features simple Bluetooth device pairing. Of course, one of the exceptional things about the FitIncluded Reflex Fitness Tracker is the support users receive from FitIncluded.com. The Reflex tracker supports iOS and Android, with Microsoft support coming soon. The battery is water and dust resistant and lasts up to four times longer than other leading brands.
WellnessIncentivesPlus.com is the leading provider of imprinted wellness, fitness and health-related promotional items–for health fairs, wellness incentives, running events and more.
---