Custom Printed Hand Sanitizer
Custom Printed Hand Sanitizer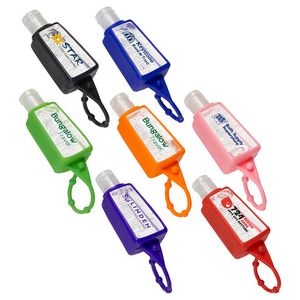 Keep your clients healthy on the go with Custom Printed Hand Sanitizer! This item features a secure, adjustable clip and contains 1 ounce of hand sanitizer in a small, plastic bottle. The sanitizer is FDA approved and contains moisturizing aloe and vitamin E. This product has a shelf life of two years and contains 62% alcohol. The sanitizer has a fresh, citrus scent. This item is available in black, blue, green, orange, pink, purple and red.
Click here to learn more about the Custom Printed Hand Sanitizer and be sure to create a virtual sample online!
WellnessIncentivesPlus.com is the leading provider of imprinted wellness, fitness and health-related promotional items–for health fairs, wellness incentives, running events and more.
---