Custom Printed 3 in 1 Shaker Cup
Custom Printed 3 in 1 Shaker Cup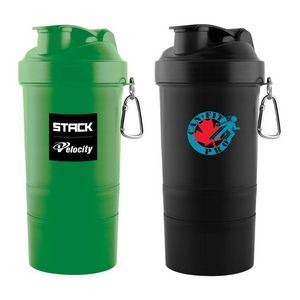 The Custom Printed 3 in 1 Shaker Cup features three compartments. The bottom offers storage for powders, and the middle holds supplements. The large, top compartment is perfect for mixing and shaking. This item includes a carabiner key chain and a blender screen, which helps mix powders more quickly. Your logo will look great printed on this item, which is available in Black, Frosted Clear, Blue, and Green.
Click here to learn more about the Custom Printed 3 in 1 Shaker Cup, and be sure to create a virtual sample online!
WellnessIncentivesPlus.com is the leading provider of imprinted wellness, fitness and health-related promotional items–for health fairs, wellness incentives, running events and more.
---