Custom Imprinted Salad Shaker Set
Custom Imprinted Salad Shaker Set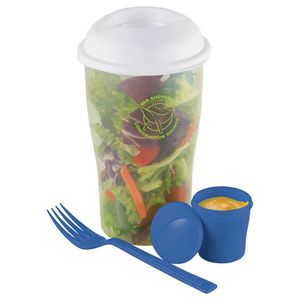 The Custom Imprinted Salad Shaker Set is a great way to eat healthy on the go! The four-piece set includes a shaker cup with lid, a fork, and a container for dressing. The lid snaps securely in place to avoid spills, and the dressing container nests inside the lid. The reusable fork is conveniently stored in a designated spot on the shaker lid as well. All pieces are FDA compliant. The set is available in three colors: blue, lime green and white.
Click here to learn more about the Custom Imprinted Salad Shaker Set and be sure to create a virtual sample online!
WellnessIncentivesPlus.com is the leading provider of imprinted wellness, fitness and health-related promotional items–for health fairs, wellness incentives, running events and more.
---