Custom Imprinted Promotional Fitness Bottle
Custom Imprinted Promotional Fitness Bottle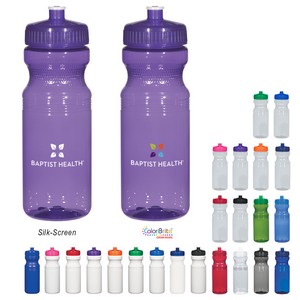 The Custom Imprinted Promotional Fitness Bottle is the perfect item for your wellness campaign! This BPA free bottle features a leak-resistant push pull lid and is Proposition 65 compliant. This item contains no lead. The white and translucent bottles are made with PET material. The solid colors are made with up to 25% post-industrial recycled HDPE material. This item meets FDA requirements and does not retain odor or taste. The Custom Imprinted Promotional Fitness Bottle is made in the USA and is not for use with hot liquids. This promotional item is available in a wide range of colors, including Black, Blue, Green, Navy Blue, Orange, Purple, Red, Translucent Blue, Translucent Charcoal, Translucent Clear, Translucent Green, Translucent Purple, Translucent Red, White Bottle, and Yellow.
Click here to learn more about the Custom Imprinted Promotional Fitness Bottle and be sure to create a virtual sample online!
WellnessIncentivesPlus.com is the leading provider of imprinted wellness, fitness and health-related promotional items–for health fairs, wellness incentives, running events and more.
---