Custom Imprinted Fitness Tracker
Custom Imprinted Fitness Tracker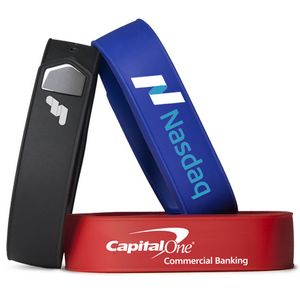 The Custom Imprinted Fitness Tracker allows users to track activity and also features a special alarm to remind users to get up and go! The tracker uses a custom app for keeping up with certain activities and is designed to look like a bracelet so it can be worn at any time. The tracker is available in red, blue or black and comes complete with a white retail box.
Click here to learn more about the Custom Imprinted Fitness Tracker and be sure to create a virtual sample online!
WellnessIncentivesPlus.com is the leading provider of imprinted wellness, fitness and health-related promotional items–for health fairs, wellness incentives, running events and more.
---