Custom Branded Soup Mug Soupreme
Custom Branded Soup Mug Soupreme
Your team can take healthy and hearty lunch on the go with the Custom Branded Soup Mug Soupreme!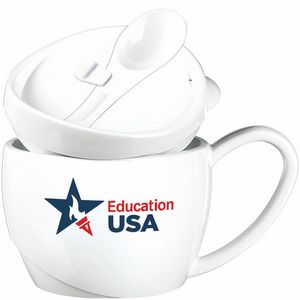 The Custom Branded Soup Mug Soupreme is the perfect gift for the home or office! This item is made in the USA and designed with function in mind. The 15 oz. mug features a bowl-like base perfect for soups and stews. It also accommodates salads, cereals, hot and cold beverages, and even ice cream! It is comfortable to use and dynamic to look at. This item features a gasket-fit lid that comes complete with an attached spoon, which locks into the lid for safe storage. The base is microwave safe, and the item is made of rinse and reuse, break-resistant plastic. It is available in blue or white.
Click here to learn more about Custom Branded Soup Mug Soupreme and be sure to create a virtual sample online!
WellnessIncentivesPlus.com is the leading provider of imprinted wellness, fitness and health-related promotional items–for health fairs, wellness incentives, running events and more.
---